EMERGECY PLUMBING HELP NOW
Water Heater Installation Service in Independence
Many people don't think about their water heaters at all – until something goes wrong. Suddenly, the shower is freezing, the dishes are getting clean, and it's time to take action ASAP and get a new model. That's why Independence Electrical & Plumbing is offering a vital new service: Water heater installation.
Did you know there are several water heater models to choose from? Each comes with its own advantages, depending on your home and hot water needs. Here are the common choices buyers have.
Types of Water Heaters
These are the popular water heaters you can find in many homes:
Conventional Storage Tank Water Heater
These are the large, cylindrical tanks you can spot in many garages, closets, and basements across the country. They are designed to hold, heat, and insulate water until it's ready to be used. They feature a large amount of hot water on demand, which is very handy for larger families all taking showers in the morning.
Tankless Water Heater
These heaters save lots of energy by heating water only when its needed, and today's models are very effective. You don't need to worry about "running out" of hot water, but tankless models may struggle to meet multiple hot water demands at once.
Heat Pump Water Heater
This heater may look like a conventional tank, but it uses a heat pump to draw in warmth from the air to help heat the water – that offers tons of energy savings, while still providing a large amount of hot water at any time. However, these installations can be bulkier and more costly than other options.
Condensing Water Heater
Do you use gas in your home? These condensing water heaters tap into gas furnaces or fireplaces and use the extra heat to help heat the water. It can be an excellent alternative if a heat pump hybrid won't work at your home, and comes with similar savings.
Solar-Power Water Heater
If your roof or yard are good candidates for solar panels and you've been wanting to tap into the power of solar energy, water heaters are one of the best possible options: Specialized panels capture solar heat and channel it into the water, easing the use of electric elements to save money.
Benefits of Professional Water Heater Installation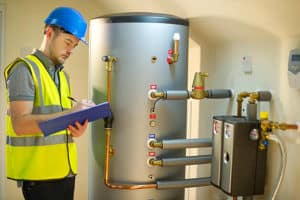 You don't have to worry about making mistakes: Independence Electrical & Plumbing's licensed technicians are ready to make repairs and installations – this is a project for professionals!
We make the installation speedy: We offer same-day service, and installations that can take as little as half an hour, so you don't have to worry about wasting time.
You can get a quick upfront quote: Professional services like Independence Electrical & Plumbing offer quick quotes so you can understand the costs and compare your options before making a decision.
Contact Independence Electrical & Plumbing for Your Water Heater Upgrade!
Thinking about replacing your current water heater with a more efficient version, or one that's meant for a larger family? We can help with advice and installations on a schedule that works for you. Contact Independence Electrical & Plumbing Kitchen & Bath Design at (216) 789-7544 today, or visit us at 6485 Brecksville Rd, Independence, OH 441. You can also fill out our web form to get a quote for your specific project. We also offer a variety of additional plumbing services.