Drain Cleaning and Clogged Drain Services
Serving Cuyahoga, Summit, and Portage County
Plumbing systems are known to develop clogs at some point in their lifespan. Whether the drain has accumulated a minor buildup from grease or leaves or a foreign object has caused a major blockage, our plumbing company is prepared to perform the drain cleaning services you need.
Regardless of what your drain clog problem involves, Independence Plumbing is prepared to resolve the matter. We have over 40 years of experience unclogging drains and sewers.
Methods of Unclogging Pipes
When you need reliable and efficient services you can count on, we can help you with all of your drain cleaning needs. If your drains are clogged or blocked, our father-daughter team can identify the problem and eliminate it efficiently and cost-effectively. At Independence Plumbing, we know what particular tools and equipment need to be used for each task and can perform the necessary job right the first time.
Some of the procedures we can use to get your drain cleaned include:
Cabling or snaking – As an initial attempt to get rid of food bits and hair in your drains, we can do what is called cabling or snaking. A metal cable is inserted through the drain pipe to discharge foreign objects in your pipes.
Augering – Using an auger, a tool designed for unclogging toilets and urinals, we can recover or force the foreign object out of your pipes.
High-pressure water jetting – With high-pressure water jetting, grease, soap, and other types of buildup are flushed out of the drain system of your residential or commercial building using a high-pressure water jet.
At Independence Plumbing, we seek to perform the unclogging process quickly and efficiently. We offer emergency services 24/7 to ensure that water is flowing freely through your drains. Contact us at Independence Plumbing for the effective and quality plumbing services you require in or around Cuyahoga County.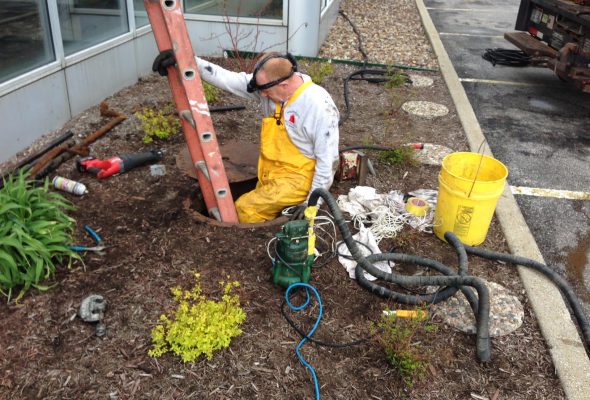 We have many years of experience working for restaurant chains and commercial stores. Our company can help you get your business up and running again if you are suffering a plumbing, sewer, or drain problem. We can minimize your downtime and resolve the commercial plumbing issue at once.
Our company offers a number of residential services to clients who are facing problems with their home's plumbing. From repairs to gas lines, we can ensure that the issue is fully resolved in the most convenient manner possible.