Commercial Plumbing in Independence
Serving Cuyahoga, Summit, and Portage County
At Independence Plumbing, we offer high-quality commercial plumbing services to help you resolve any plumbing issue in your building.
We provide plumbing services for:
Local businesses including Whole Foods Market, Lush Cosmetics, NTB, Kohls, Strongsville Fiat, and Suburban Collision Center just to name a few
Restaurants
Hotels
Office buildings
We perform new construction plumbing and repairs for existing commercial buildings in and around Cuyahoga County.
Our company also offers the following commercial plumbing services:
Alterations on existing business
New construction and inspections
Bathroom remodeling
Kitchen remodeling
Sewer cleaning
Drain cleaning
Re-piping
Pipe upgrades
Sump and sewer pump installation and repair
We have many years of experience servicing a variety of restaurant chains and commercial stores in Northeast Ohio. Our company can use this knowledge and experience to your benefit to help ensure a successful result.
As a father-daughter team, you can trust in the family-owned and -operated company we have built and our personable, client-focused approach to service. Do not hesitate to contact our company at your earliest convenience. We can inspect the commercial plumbing issue and determine a solution right away.
Are you in need of quality commercial plumbing services? Call us!
When your business requires quality services for its plumbing needs, you can look to Independence Plumbing. Our team has over 40 years of experience handling a wide range of commercial plumbing issues, including everything from sewer line repair to dripping faucets. We can use our years of experience to resolve commercial plumbing problems affecting drains, toilets, and all other aspects of your plumbing system.
We provide businesses throughout Cuyahoga County, Ohio with strong and reliable plumbing services. Our plumbing company can handle all of your commercial plumbing problems.
Take the time to schedule an appointment to obtain the assistance you need so that you can focus on your business! We also provide emergency services 24/7.
Commercial Plumbing Services
At Independence Plumbing, we understand that plumbing services aren't just related to homes and residential structures. Businesses run into problems such as clogged toilets and broken hot water heaters just as often. That's why we offer a wide range of commercial plumbing services for businesses located in Northeast Ohio.
As a family-owned business, we are here to help you with all of your plumbing installation and repair needs. Our dedication to quality service and customer care makes us one of the most trusted commercial plumbing repair teams in the area and we are proud to live up to our reputation.
What is Commercial Plumbing?
Commercial plumbing is very similar to the same type of plumbing you see in a residential home. There are still toilets, hot water heaters, kitchen faucets, and even sometimes garbage disposals that need repair or hookup. In some cases, there are sump pumps and backflow issues requiring attention. Even venting systems and appliances sometimes require professional installation.
Why Would a Business Potentially Need Commercial Plumbing Services?
There are a variety of reasons why a business would potentially need to hire a commercial plumbing contractor. First, clogged drains and problems still happen in areas other than homes. If there's an issue, it is vital to work with a licensed plumber to help keep bigger problems like flooding from occurring. It is also very important for many businesses to have working restrooms and kitchens to keep business operations moving smoothly, so it is important to have plumbing problems addressed as soon as possible to eliminate downtime.
In addition, most companies aren't equipped with staff or tools to handle water issues, making it important to have an on-call emergency commercial plumbing partner on-site in case of a sudden issue. As a business owner, having contact with a plumbing service long before you need them is important.
What About Installation of Commercial Plumbing?
At Independence Plumbing, we also offer a range of plumbing installation services. This can include toilets for new bathrooms, break room plumbing, hot water heaters, and much more. If your industrial site needs specific plumbing requirements to run equipment or facilitate some other function, please call us.
We are licensed for both commercial plumbing and electrical services. That means we are also here to help with other projects, such as running wiring or installing new light switches or specialty outlets. Please contact our team today with the specifics of your project, so we can put together a no-obligation estimate for your review.
Why Choose Independence Plumbing?
There are many reasons why companies across Northeast Ohio choose Independence Plumbing for installations and repairs. However, the biggest reason is that we are one of the few emergency commercial plumbing companies in the area. No matter what time of day, we are here to help you keep the plumbing and fixtures at your business location in proper working order. After all, we are business owners ourselves and understand your needs.
In fact, we are family-owned by a dynamic father-and-daughter team. We have over four decades of commercial plumbing experience and can easily tackle any issue or installation you need to be handled.
Are you ready to discuss your commercial plumbing needs? Please contact our team at Independence Plumbing today at (216) 789-7544 to schedule an appointment. We would be happy to hear from you!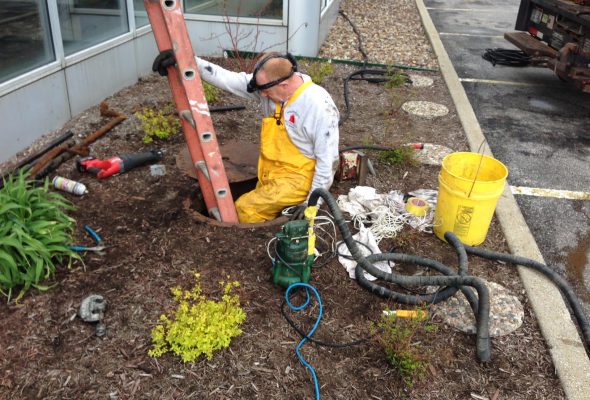 We have many years of experience working for restaurant chains and commercial stores. Our company can help you get your business up and running again if you are suffering a plumbing, sewer, or drain problem. We can minimize your downtime and resolve the commercial plumbing issue at once.
Our company offers a number of residential services to clients who are facing problems with their home's plumbing. From repairs to gas lines, we can ensure that the issue is fully resolved in the most convenient manner possible.